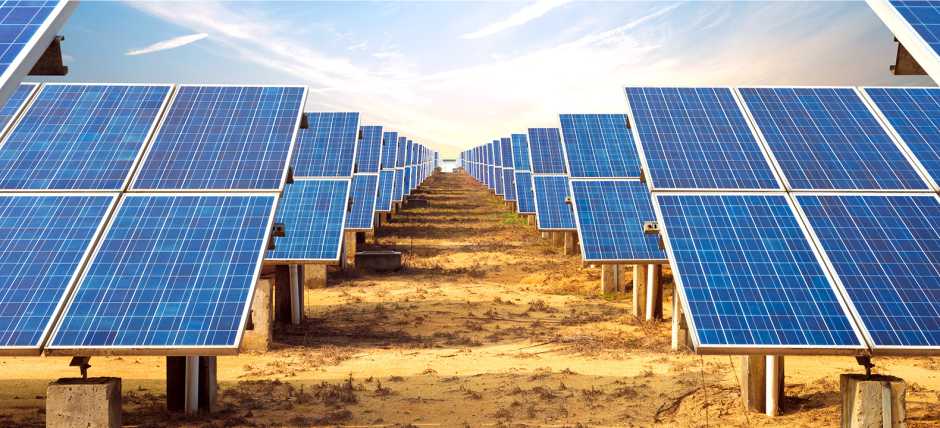 The most appropriate ground-mount for any outdoor site depends on the project size, engineering considerations, mounting surface material, soil conditions and ground topography. Therefore, Enectric offers a diverse range of ground mounting systems to ensure a solution is available for every application, location and environment.
Each system is designed for simple installation, durability, cost-effectiveness and flexibility in design and installation.
The MW scale projects are usually ground mounted. Customer will provide land or as a developer, we identify the suitable land for solar near to the feed in substation. The land will be levelled as per project requirements.
Approximately 5 acres are required per MW for a fixed tilt design and for Seasonal Tilt with tracking, it requires around 6 acres per MW.
The panels are mounted on GI structures called TABLES, which is of 2 x 10 or 2 x 11 array according to the design requirements.
The panels thus installed will be connected to ARRAY JUNCTION BOXES with monitoring facility using DC cables.
The AJBs thus feed DC power to the Central Inverters which are kept at outdoor or indoor according to project requirements.
The capacity of central inverters will range from 1MW, 1.25MW, 2.1MW and so on. The outdoor mounted inverters are usually containerized for handling outdoor conditions.
The AC power thus produced will be fed to Power Transformers and then over a transmission line will be fed to nearest substation.
The power thus evacuated can be used for GROUP CAPTIVE USE / OPEN ACCESS USE. Depends on the requirement of the customer, the power is evacuated.
The power evacuated shall be with 11kV/33kV/110kV/220kV/400kV depending on the capacity of solar power plant and the nearest substation.
ABT meters are installed at plant end and at customer end for recording of units produced and consumed and will be used for billing.

Fill the below details to download our brochure & leaflets.